Over the past decade, the nation has faced multiple long-term public health emergencies that increased demand for mental health services, including the opioid crisis and the COVID-19 pandemic.
Firms that provide mental health services are primarily classified in the following six industries:
Firms in these selected industries in the Service Annual Survey (SAS) include private for-profit, non-profit, and public employers, excluding self-employed practitioners without employees.
According to the SAS, estimated revenue of Offices of Mental Health Practitioners (except Physicians) increased 104.0% from $7.9 billion in 2015 to $16.2 billion in 2021, topping revenues of both public and private Psychiatric and Substance Abuse Hospitals.
In contrast, Government-owned Psychiatric and Substance Abuse Hospitals experienced the lowest percent revenue increase of the six industries, climbing 12.0% from $12.3 billion to $13.8 billion during the same period.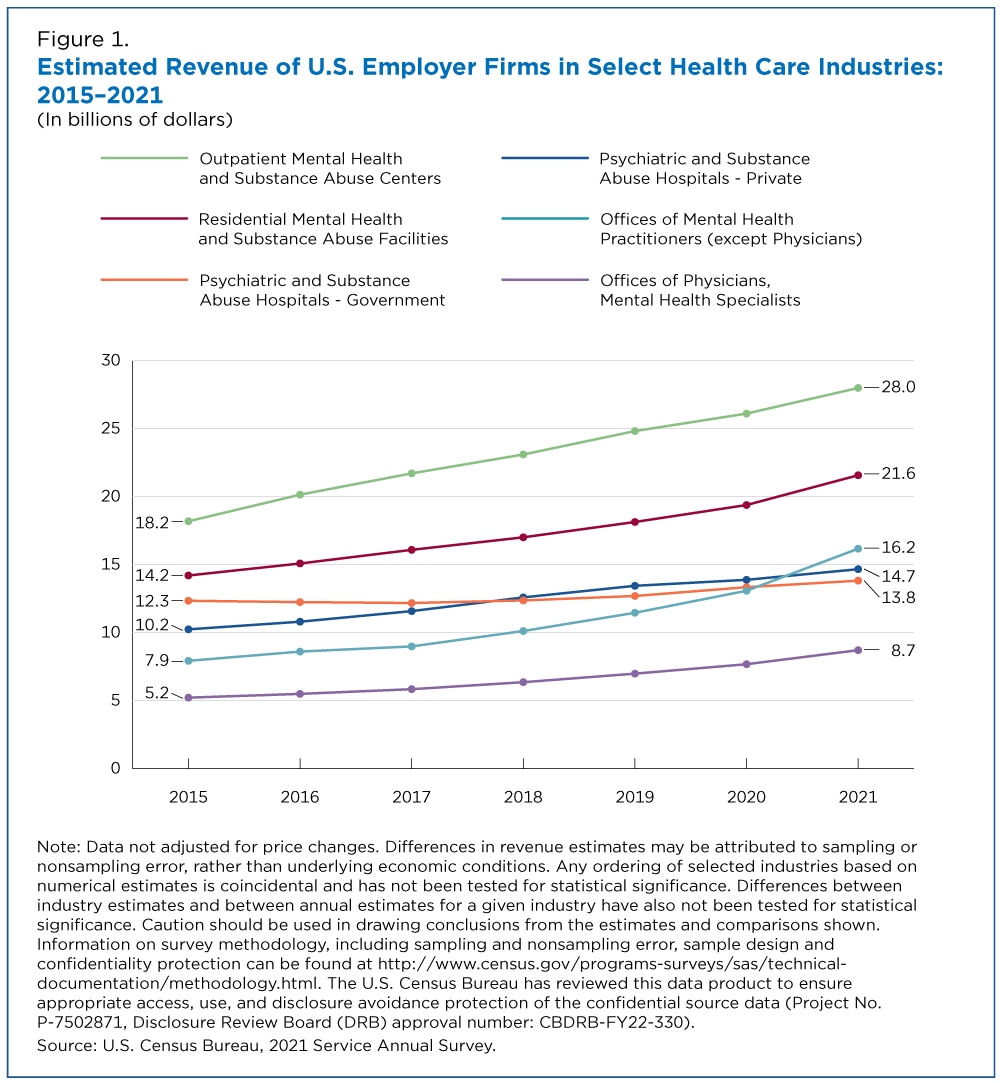 What's Behind the Rise in Mental Health Services?
Several factors contributed to the nation's growing need for mental health services in the past decade.
Declared a public health emergency by the Department of Health and Human Services in 2017, the opioid crisis continues, despite mounting efforts to control it.
Opioids include illegal drugs, such as heroin, and legally prescribed pain relievers, such as oxycodone, codeine, morphine, and the potent synthetic pain reliever fentanyl. In 2021 alone, 9.2 million people (3.3% of the U.S. population ages 12 and older) misused opioids.
Medical and mental health service providers have played a crucial role in helping to prevent and diagnose illnesses, including depression and anxieties related to the COVID-19 virus. In addition to the pandemic, safety measures like shutdowns and remote work/school orders implemented to protect against transmission led to mental health challenges for many individuals.
In 2021, nearly 1 in 4 U.S. adults ages 18 and older had a mental illness in the past year. This period included the first phase of the COVID-19 pandemic which triggered restrictions on businesses and social distancing policies.  These restrictions disrupted the economy as well as routine social interactions.
The Families First Coronavirus Response Act (FFCRA) enacted in 2020 included a requirement for Medicaid programs to continuously enroll beneficiaries during the COVID-19 public health emergency. This had a substantial impact on health benefits for the U.S. population as Medicaid covered 18.9% of people in 2021.
Congress amended the Mental Health Parity and Addiction Equity Act (MHPAEA) in 2021 to provide additional protections of mental health care benefits. The MHPAEA establishes that health coverage benefits for mental health and substance abuse cannot be more restrictive than those for medical/surgical care.
Prior to the COVID-19 pandemic, Medicare payment policies for telehealth coverage mainly focused on improving access to care in rural areas, where patients had to travel long distances for medical care.
Providers and health plans in other areas expanded telemedicine use during the COVID-19 pandemic because of the need for social distancing to protect patients and health care workers.
At the onset of the COVID-19 pandemic, Medicare providers who could offer telehealth included doctors, nurse practitioners, clinical psychologists and licensed clinical social workers. Technological developments, such as secure software for online interactions, also played a role in the expansion of telemedicine.
Estimated telemedicine revenue of employer firms classified as Offices of Mental Health Practitioners (except Physicians) increased 16.1%, from $4.9 billion in 2020 to $5.6 billion in 2021. Estimated telemedicine revenue for Offices of Physicians, Mental Health Specialists, increased 12.7% from $2.9 billion in 2020, to $3.2 billion in 2021.
In July 2022, the U.S. switched from a 10-digit phone number to an easy-to-remember three-digit (988) national suicide hotline providing 24/7 crisis care. More than 1.7 million people called or texted the number during its first five months. This change is an example of a public service to facilitate access to mental health care during an emergency.